Summary
Nashville icon Eddie George was in the spotlight again this spring, as he helped the Legal Aid Society (LAS) raise over $127,000 at the Breakfast of Champions fundraiser held April 6.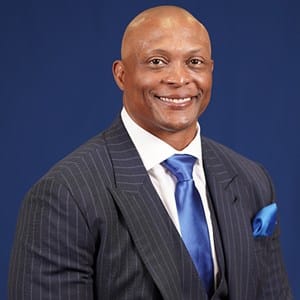 Nashville icon Eddie George was in the spotlight again this spring, as he helped the Legal Aid Society (LAS) raise over $127,000 at the Breakfast of Champions fundraiser held April 6. The money raised will help LAS as we ensure all Middle Tennessee residents can gain access to the justice system, overcome unfair circumstances, and receive equal justice under the law.
We were also honored to have Jennifer Kraus co-host the event with our own Executive Director, DarKenya Waller. Kraus is the weekend anchor and an investigative journalist with Nashville's NewsChannel 5. In addition, our event attendees had the chance to hear powerful personal statements from LAS clients at the breakfast. 
Clients of Legal Aid Society shared their stories during Breakfast of Champions
Attendees met Ms. Wells of Columbia, Tennessee, who came to a free legal clinic after facing housing instability. She had fallen behind on rent during the pandemic and she was facing eviction. Patricia Jones, a LAS attorney, accompanied Ms. Wells to court and worked with a relief agency to help her pay. "I knew Ms. Jones would fight for me like I was her family. She had faith in me," shared Ms. Wells. 
In addition, Ms. Waltman of Murfreesboro, Tennessee shared her story of escape from domestic violence. When she came to LAS she was living in her truck, with her dog. Attorney Alix Rogers and advocate Jenny Pegram represented Ms. Waltman through the divorce process, helped her find and secure work and housing, and introduced her to the victim's compensation program to help cover treatment of her injuries. "I've got gainful employment because they helped me expunge things from my record. They never gave up on me," she shared. 
As the event's keynote speaker, former Titans running back and current coach of the Tennessee State University Tigers, Eddie George shared his own story about overcoming adversity. "Being a champion isn't always about hoisting a trophy or winning an award. What defines a champion is the ability to get up time and time again after getting knocked down time and time again. It's having the fortitude to show up when you don't feel like it, when you feel terrible, when life has kicked you in the gut," he shared.
Detailing his own experience going from an unnoticed athlete in military school to being courted by football recruiters from top programs around the country, he shared, "I learned to embrace adversity. Instead of running from it, I ran toward it. And I recognized that if I wanted to accomplish something, I had to listen to the right people."
Coach George shared these tips to help overcome challenges: 
Learn to be comfortable being uncomfortable. 

Victories in the spotlight are made possible by the work that champions do outside of the spotlight.

Retrain your mind to think differently about adversity. Recognize it as a source of growth. 

As long as you muster the courage to shoot your shot, you win, or you learn. You never fail. 
"During times of adversity and challenge, you have to find the blessing… because it's there," he said. "It's a matter of your focus, your attitude, and your effort going forward." After the event, Eddie George spoke with our Executive Director, sharing even more about his own life experience. You can watch the full conversation here: https://www.youtube.com/watch?v=ZTFUMd6Enyo. 
Legal Aid Society is Tennessee's largest nonprofit law firm. Together, with the generous support of our donors and partners, we provide essential access for low income and vulnerable residents to high quality, free, civil legal services. In addition, community education services help individuals and families better protect their livelihoods, their health, and their families.
After this successful fundraising event and the support of Jennifer Kraus, Eddie George, and generous donors, LAS is poised to continue to provide free legal clinics, and civil legal support in key areas, including reentry, employment, health and benefits, housing, tax, and family law. 
Details on future free legal clinics can be found here: https://las.org/find-help/free-legal-help-clinics/.
In addition, free legal resources can be found here: https://las.org/find-help/self-help-resource-center/legal-help-booklets/